We are honoured to welcome the Republic of Zimbabwe as a full member of The Canada-Africa Chamber of Business. 
On Tuesday June 15, 2021 at 10:00 ET / 16:00 SAST we will convene a forum with Ministerial and business leaders. Zimbabwe is a member of the African Trade Insurance Agency, providing various options to mitigate risk on investments and trade - rated "A/stable" by S&P, and "A3/Stable" by Moodys.
'Zimbabwe has never been defined by its challenges, but its potential. Success stories are too often not articulated, nor understood. It is my privilege as Chair of the Board to welcome the Republic of Zimbabwe and its great private companies - who are excellent counterparts for Canada's dynamic business sector in SADC and beyond
      -Mr. Sebastian Spio-Garbrah, Chair of the Board
Zimbabwes embassies have been mandated to give priority to economic diplomacy and investment promotion. Investors are welcome to reach out to me directly or via The Canada-Africa Chamber of Business.
                             - Her Excellency, Ambassador Ruth Masodzi Chikwira 
'The challenges Zimbabwe has faced not unique to Zimbabwe. With proven reforms weve researched, there is no reason Zimbabwe could not become one of the most economically free and prosperous nations on earth. I look forward to our scheduled engagement through the Chamber with leaders in this wonderful country.
     - Fred McMahon, Director: Economic Freedom of the World, Fraser Institute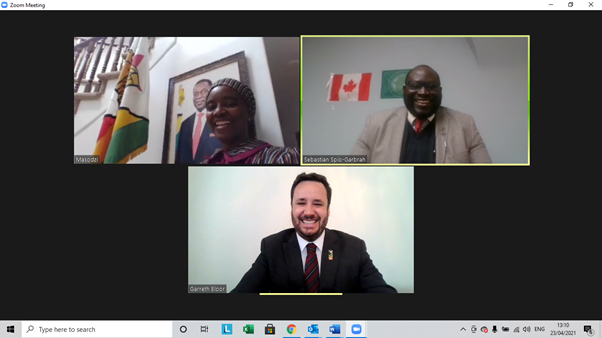 Above: Ambassador Ruth Masodzi Chikwira, Mr. Sebastian Spio-Garbrah (Chair of the Board) and Mr. Garreth Bloor (President)
For more information kindly contact
Garreth Bloor
President
The Canada-Africa Chamber of Business
Tel: +1.647.667.1223
Email: garreth@canadaafrica.ca
Manulife Building RTO
55 Bloor Street West, PO Box 19553
Toronto, Ontario M4W 3T9